Sq Area:
1273 sq Km
Population :
17,702,761
Avg Rain :
216 cm
Hi-Low Temp:
Summer 34°C, Winter 17°C
Airport:
Chatrapati Shivaji International Airport/Sahar Airport Santa Cruz
Domestic Bus Station:
Mumbai Central Bus Stand (opp Mumbai Central Station)
Train Station:
Chatrapati Shivaji Railway Station/Victoria Terminus Mumbai Central/Churchgate
Tel Area Code:
(91) (022)
Languages:
Marathi, Hindi, and English
Best time to visit:
Oct thru Mar
Mumbai (Bombay), the capital of Maharashtra wears several hats or should we say crowns? Mumbai is not just India's largest city, it is also its commercial capital, industrial powerhouse, busiest port, fashion capital, home to 'Bollywood' (India's Hollywood), world's biggest textile market –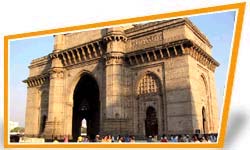 the list goes on and on. Mumbai thrives on contrasts- the city is home to the richest and the poorest of Indians, sleek limousines jostle rusty cycles, red double-decker buses rumble past three-wheeler auto-rickshaws; impressive high rises soar above crowded ugly slums and shanty towns; glitzy shop fronts amid pavement stalls; glamorous film stars and homeless beggars demand attention at traffic lights and amidst all this are people, people, people everywhere, for Mumbai is home to some 13 million Indians.
Mumbai Shopping
The boutiques that have recently sprung up all over the city supply the fashion thirsty populace with both Indian and foreign designer wear. Glossy malls such as Crossroads and In Orbit and Phoenix Mills are the new face of Mumbai shopping. With elaborate food courts and department stores that sell everything from furniture to baby wear, malls such as these are becoming a very popular Mumbai thing to do amongst youngsters. The old ways also persist, however, in this city of contradictions. Bazaars and markets are a way of life here, as in other parts of India. There is Crawford Market and the wholesale cloth bazaar nearby; Zaveri Bazaar or the jewellers market and Chor Bazaar or the Thieves market which sells antique furniture and curios.
Places to see in Mumbai- The Gateway of India
The Gateway of India located in Mumbai, India is one of the most important tourist attractions that you must visit during your tours to this region. The construction of the Gateway of India was completely in the year 1924. This massive monument was built to mark the visit of the English king George V and Queen Mary to India.
- The Dargah of Haji Ali
The Dargah of Haji Ali is also one of the most important tourist attractions in Mumbai in Maharashtra, India. The Muslim saint Haji Ali's Dargah is situated on a piece of land on the sea separated from the mainland by a narrow strip of land. A huge sculpted main entrance leads to a marble courtyard that houses the main shrine. Devotees from far and wide to pray at this sacred Dargah.
- The Taraporewala Aquarium
The Taraporewala Aquarium located on the Marine Drive in Mumbai, Maharashtra, India is one of the most frequented tourist attractions in Mumbai, Maharashtra, India. This massive aquarium is home to a large variety of exotic fishes.
- The Prince of Wales Museum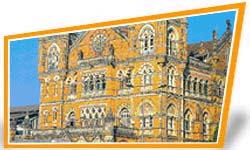 The Prince of Wales Museum located on the Mahatma Gandhi Road in Mumbai, India is known for its Indo-Saracenic architecture and was constructed in the early 20th century to commemorate the visit of the Price of Wales to India. You must definitely make a trip to this museum during your sightseeing tours to Mumbai in Maharashtra, India.
Climate
The climate of Mumbai is temperate with the summers warm and winters cool, with negligible seasonal temperature variations. In May, the hottest of the warm summer months, temperatures hover between 27° Celsius (81°F) and 33° Celsius (92° F). The summer heat gives way to the monsoon, when the southwest monsoon winds unleash their laden fury on the city. The average rainfall is 217 cm but the city's streets get flooded every rainy season (June to September/October). Relative humidity levels climb to more than 87% and dehydration and enervation as clothes-stick-to-the-body are two very common complaints from visitors and residents alike. The winter months from November to February are balmy and cool with day temperatures averaging a comfortable 19° Celsius (67° F).
How to reach- By Air
The domestic airport at Santacruz, 26 km from the city centre, is well served by all domestic airlines. connecting Mumbai with almost all the major cities in the country. Sahar International Airport, 30 kms from the city centre is India's major International gateway and is served by a host of International airlines.
- By Rail
Mumbai is the headquarters of the Central and Western Railways. Regular train services connect Victoria Terminus and Mumbai Central stations to different parts of India.