Area (in Sq.km)
38,863
Population
3,1838,619
Males
15,468,664
Females
16,369,955
Sex ratio :
Females/1000 1058
Density of Population
819
Per Capita Income
1999-2000 (in Rs) 19,461
Literacy rate
90.92%; Male 94.20%; Female 87.86%
Principal Language
Malayalam
Coastal line in km.
590
Water bodied area in ha
. 108,760
Forest area in ha.
1,081,509
Kerala has some of India's best coastal resorts, among the finest is the much photographed Kovalam, which many argue has the best beach in the country. Here visitors can take in Kerala's rich cultural and artistic life and enjoy the best vegetarian cuisine on the planet.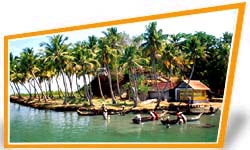 Every district in Kerala has it's own unique culture and characteristics. Thiruvananthapuram is known for it's beach- Kovalam, the Sri Padmanabhaswamy Temple and various museums and palaces; Alappuzha for it's backwaters, Thrissur, the cultural capital, Kottayam for it's ancient churches, Kozhikode for it's old world charm and the entrancing Ponmudi or Golden valley.
When the rest of India gets too hot to handle, Karala is soothing and rejuvenating, whether you stick to the lowlands or head for the hills, passing through scenery dotted with churches and temples, past spice, tea, coffee and rubber plantations, enjoying natural forests with wildlife reserves filled with elephants. Compared to the rest of India Kerala is short on monumental sights to see; the drawcard here, though, is the natural beauty. The countryside undulates westward from the mountains offering vistas of rich green valleys. Rivers glide across the plains towards the sea, creating attractions like the Athirampally Falls, ending in a linked chain of lagoons where the silence of the still waters is broken only by boats and canoes, and seagulls and cranes.
History
Original inhabitants were animists, followed by the Dravidians. After Alexander's triumphant sweep over Asia Minor, the ports of Kerala became a link between the Middle East, the Mediterranean and China. In 1498, Vasco da Gama made his historic landing on the Malabar Coast. In 1723, the East India Company signed a strategic treaty with King Marthanda Varma. For a few decades, Hyder Ali and his son -Tipu sultan proved to be a thorn in the flesh of the British, sweeping down several times into Kerala. In 1947, it was the turn of the British to pack their bags.
Art & Culture
Kerala is known the world over by its own performing art form, the Kathakali. "Katha" means story and "Kali" stands for dance. It is a beautiful mix of dance, drama and music that the connoisseurs of art world qualified as 'a total art form of immense sophistication and power'. This is a form of dance formerly confined only to the festival stages in temples. The late Mahakavi (great poet) Vallathol Narayana Menon took special interest in the art, brought it out of the temples, exploited its antiquity and, by unstinted efforts, swept the opera stages all over the world, bagging great deal of goodwill for Kerala and Malayalees. It is a mime show, dancing with mudras (formulated hand gestures conveying the text of lyrics) and specialized dancing steps following the song rendered in the background by a singer to the accompaniment of Chenda, Maddalam (country drums), Chenkila and Elathalam (Cymbals).
Festivals of Kerala- Onam
The biggest and most important festival,Onam is a harvest festival celebrated through out Kerala for four days. According to legend, it is on the first day that the good Asura king Mahabali who once ruled Kerala, comes from exile to visit his beloved people.
- Boat Race
Alleppey really comes alive in the depths of the rainy season, when it serves as the venue for one of Kerala's major spectacles - the Nehru Trophy snake boat race - with magnificently decorated long boats, with raised sterns designed to resemble the hood of a cobra.
- Trichur Pooram
Thirty caparisoned elephants decorated with gold ornaments, each ridden by three Brahmins holding objects symbolizing royalty including colorful umbrellas create a spectacular sight-especially when accompanied by Chenda Melam, the quintessentially Kerala music. Lakhs of people throng to watch the Trichur Pooram. April/May every year.
- Navaratri
A nine day festival of the Goddess of knowledge and music, a musical concert is held every evening for nine days at the Navarathri Mandapam of the Sree Padmanabhaswamy Temple in Trivandrum. October/November every year.
- Nishagandhi Dance Festival
Indias leading exponents of almost all classical dance forms including Bharathanatyam, Odissi, Mohiniyattam and Kathak perform at the Nishagandhi open-air auditorium at Trivandrum. A grand treat for lovers of dance. 21st to 27th February every year
Backwaters of Kerala
Kumarakom has been recently discovered and have now blossomed into a beautiful backwater holiday destination with its spectacular lagoon fringed by coconut groves that have almost become an icon of Kerala tourism. This place also boasts of a 14-acre bird where one can spot several of avian species such as water ducks, cuckoos and Siberian storks. Coconut Lagoon and Englishman Henry Baker's bungalow that has now been converted into a heritage hotel by the Taj group are the chief attractions of the place.
Kollam with its maze of rivers, lakes and lagoons, is a popular destination where one can see splendid views of the glorious Kayamkulam Lake and the Ashtamudi Lake. Kochi, the commercial Capital of Kerala, is not far behind with its treasure of myriad lagoons, rivers and lakes.
Backwaters of Alappuzha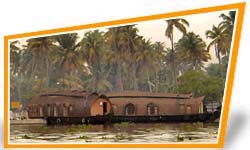 Earlier known as Alleppey, Alappuzha is today referred as the 'Venice of East'. Alappuzha is an important backwater destination attracting several thousand-foreign tourist every year. Alappuzha is also famous for its boat races, beaches, marine products and coir and coir industry.
Ayurveda
Ayurveda is believed to be of divine origin. Legend says that Lord "Brahma", The creator of the world, compiled Ayurveda along with the other Vedas in a 1000 chapter book with 100,000 stanzas. Ayurveda later branched into two schools the 'Bharadwaja' or 'Atreva' School of Physicians and the 'Dhanwantary' School of Surgeons. There is ample evidence to prove that the basic principles of medicine were first preached in West Asia by Indian physicians.
Best time to visit
The climate is equable and varies little from season to season. The temperature normally ranges between 27' and 32' C in the plains but drops to about 21' C in the highlands.