Population :
15000
Languages :
Ladakhi, Purig, Tibetan, Hindi, English
Best time to visit :
May to October
Leh
Leh is one of the favorite tourist destinations located in the northernmost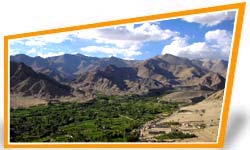 parts of the country. Lapped in the snow-covered fringes of the Himalayas, Leh has been the center of Tibeto-Buddhist culture since ages. Its colorful gompas have attracted the devout Buddhists from all over the globe. Besides, it is also a favorite hiking locale and is known for some of the best hikes in the country.
Leh became the regional capital in the 17th century, when King Sengge Namgyal shifted his court here from Shey (15 km southeast) to be closer to the head of the Khardung La-Karakoram corridor into China. Very soon, the town blossomed into one of the busiest markets on the Silk Route. Leh's prosperity, managed mainly by the Sunni Muslim traders, came to an abrupt end with the closure of the Chinese border in the 1950s. Only after the Indo-Pak wars of 1965 and 1971, when India rediscovered its strategic value, did Leh's fortunes begin to look up.
Today, khaki-clad soldiers and their families from the nearby military and air force bases are the mainstay of the local economy in winter, when foreign visitors are few. It was in 1974 that Leh was opened up for tourists.
Ladakh
Ladakh is a land like no other. Bounded by two of the world's mightiest mountain ranges, the Great Himalaya and the Korakaram, it lies athwart two other, the Ladakh range and the Zanskar range.
Ladakh lies at altitudes ranging from about 9,000 feet (2750m) at Kargil to 25,170 feet (7,672m) at Saser Kangri in the Korakaram. Thus summer temperatures rarely exceed about 27-degree celcuis in the shade, while in winter they may plummet to minus 20-degree celcuis even in Leh. In geological terms, this is a young land, formed only a few million years ago by the buckling and folding of the earth's crust as the Indian sub-continent pushed with irresistible force against the immovable mass of Asia. Its basic contours, uplifted by these unimaginable tectonic movements, have been modified over the millennia by the opposite process of erosion, sculpted into the form we see today by wind and water.