Sq. Area :
3,702 sq Km
Population
1.3 million
Avg Rain :
325 cms
Avg Temp:
Summer 26°C to 33°C, Winter 20°C to 31°C
Airport :
Dabolim International Airport
Bus Stand:
Kadama Bus Stand Mandovi bridge
Bus Stand
(Private Bus Stand)
Goa Train Stations :
Panjim South Center Railway, Vasco Railway Station, Margao Railway Station, Konkan
Railway Stations :
Karmali and Thivam
Goa Tel. Area Code :
(91) (0832)
Languages :
Konkani, Marathi, Hindi, and English
Best Time to Visit Goa
: Oct thru Feb (peak season is in Dec)
Goa the one time Portugese enclave, is to the Indian tourist what Hawaii is to the Western. A spot to relax and replenish life's vitality. Goa has a character quite distinct from the rest of India.
Roman Catholicism remains a major religion in Goa. Over the last twenty years five-star hotels have moved in to cater to the increasing flow of both Indian and International tourist. In the process some of the old world Portuguese flavour has been diluted.
Loutolim, a sleepy little village on the way to Ponda, about thirty kilometres south of Panaji is a maze of narrow road winding through houses that nestle among flowering shrubs and clusters of jackfruit, mango, coconut, guava and banana trees. The open spaces are lush green paddy fields by the river. Four and a half centuries of Portuguese rule has not changed the distinct character of this village - the architecture and lifestyle showing a unique blend of Indian and European influence.
Goa Weather
Goa Weather, When to Visit Though Goa is beautiful anytime, the Goa tourism season begins in early September and extends to March. Goa weather during these months is a perfect balance between warm and pleasantly cool. Throughout the year light summer clothing is fine in Goa but some woolens things are required during December and January and rainwear in the Monsoons which is in June.
History
Goa has been a key destination for Christian Pilgrimage tours in India. Goa was a part of the Mauryan Empire, around 3rd century BC. The Satvahanas of Kolhapur, and later the Chalukyas of Badami, took over the governance. Other dynasties followed, including a short-lived Muslim invasion, until the Vijaynagar Empire established itself for almost a century. This era, too, ended with the arrival of the Sultans of Gulbarga, from whom the rule passed on to the Adil Shah of Bijapur. Soon, the Dutch, English, French and Portuguese, all began struggling for its possession. Ultimately, in 1510, the Portuguese conquered Goa, with Alfonso de Albuquerque leading the invasion. Having ruled for around four centuries, in 1961, fourteen years after the country's independence, the Portuguese had to leave Goa.
Beaches of Goa- Anjuna Beach
Reflecting its reputation as the favorite place for long-term renters, Anjuna has some of the best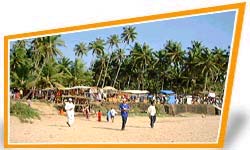 options for good value apartment hotels in Goa. Laguna Anjuna is a deluxe Goa hotel that offers spacious apartments in cottages. Don Joao Resorts is a friendly, cheap Goa hotel offers large rooms with attached kitchenettes & balconies.
- Arambol Beach
Typical beach Goa accommodation here often means seaside huts. A few basic guesthouses close to the beach and higher up on the rocky hills offer a cheap Goa holiday, both financially and figuratively. But a few better hotels should be up and running by fall, 2003.
- Baga Beach
Nilaya Hermitage is gorgeous, exclusive Goa resort, 3 km inland in secluded woodland overlooking the headland of Baga. The all-inclusive Goa Sun Village is one of the most popular deluxe Goa hotel resorts. Many budget options with good facilities are also available here. For instance, Villa Fatima is an excellent 'good & cheap' Goa hotel, perfect for backpackers; Baga Queen Beach Resort is right on this interesting Goa beach.
- Benaulim Beach
Taj Exotica, Goa is one of the best beach resort hotels in Goa or India. It's beautifully designed and offers a plethora of luxuries including sea facing rooms, varied restaurants, large pool, health club, 9-hole golf and lush gardens (Taj's three other Goa beach resorts are at Fort Aguada). Royal Palms is one of the leading partly timeshare apartment hotels in Goa, it also offers villas.
- Colva Beach
7 km south from the center of Panaji, Vainquinim is known around the world for Cidade de Goa, one of the best designed, and leading resort hotels in Goa and India. Such are its facilities that visitors who enjoy a luxury Goa holiday in Cidade de Goa always want to come back for more. The resort stands in front of Tiswadi, a highly productive agricultural land, which used to be supervised by the Jesuits during the Portuguese rule.
- Bogmalo Beach
Right in the middle of the north and south groups of Goa beaches, Bogmalo is one of the more exclusive beaches of Goa. The presence of two deluxe Goa hotel resorts attracts the well heeled, and the limited choice of cheaper options keeps the backpackers away. The beach itself is a small, palm fringed beauty, with ideal conditions for water-sports. it features some of the best water-sports facilities on any beach of Goa or India.
- Calangute Beach
For those looking for a midrange or a budget / cheap Goa hotel, there's plenty of excellent choices on, and close to the busiest beach for Goa tourism. Ondas Do Mar is a popular deluxe Goa hotel, with beachfront location and excellent facilities. Paradise Village is one of the leading midrange hotels of Goa, which along with many others in the same range offer excellent facilities that include restaurant, pool and Internet.
- Palolem Beach
The three Taj super luxurious to deluxe Goa resorts are all exceptional. Of these, the Aguada Hermitage is the most exclusive Taj Goa resort, and Holiday Village, the lowest priced (Taj's fourth Goa beach resort is Taj Exotica Goa, at Banaulim). Apart from these, a few midrange and cheap Goa hotels are also available close to this 'exclusive' beach of Goa.
- Vagator Beach
Vagator is one of the most beautiful beaches of Goa, and India, laying on inviting sandy coves, between coconut palm shaded rocky headlands.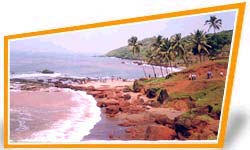 Generally peaceful, in peak season it attracts day-trippers, and during the night typically boisterous Goa beach parties are a regular feature, especially at Disco Valley between Vagator and Little Vagator, and at Banyan Tree, east of Vagator.
- Dona Paula Beaches
7 km south from the center of Panaji, Vainquinim is known around the world for Cidade de Goa, one of the best designed, and leading resort hotels in Goa and India. Such are its facilities that visitors who enjoy a luxury Goa holiday in Cidade de Goa always want to come back for more.
Goa Festivals and Arts
Another thing Goa is famous for is its colorful Carnivals; it's a non stop three day festival of song dance and music which attracts all, irrespective of age caste creed and religion. Other Goa things to do and attractions include Shigmo, a festival of colors celebrated in the month of March. This festival of colors is celebrated under different names throughout the country. In Goa it is celebrated by the masses as a farewell to winter on full moon day in March. Goa is very rich when it comes to performing arts. Theirs is a perfect mix of east and the west, leading to a number of forms of art. Music is still predominant in rural areas in Goa, while the urban folks are more into modern music styles.
Goa Shopping
Goa shopping is predominantly for the traditional and indigenous things. There is a variety of stuff to be bought in Goa ranging from traditional pottery and terracotta to brass metal ware, wooden laquerware, Goan embroidery, bamboo craft, fiber craft, jute craft, coconut mask carving and most importantly the sea shell crafts.