Best Time To Visit Khajuraho / Best Seasom / peak season :
September - March
Khajuraho derives its name from the Khajur tree (the date palm tree) found in abundance in the area. The temples are superb examples of Indo-Aryan architecture, built in the short span of a hundred years, under the generous and artistic patronage of the Chandela Rajput kings of Central India in a truly inspired burst of creativity. In the temple architecture of India, the Khajuraho complex remains unique. Khajuraho is located in the forested plains of Madhya Pradesh in the Bundelkhand region.
Temples in Khajuraho- Western Group
These groups of temples are entirely Hindu, and constitute some of the finest examples of Chandela art at its peak. The largest being the Kandhariya Mahadev, followed by a granite temple - Chaunsath Yogini. The Chitragupta Temple is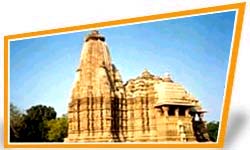 dedicated to the Sun God, while the Vishwanath Temple sports a three-headed image of Brahma - the Creator of the Universe. The Lakshmana Temple is superbly decorated, while the Devi Jagdambi Temple is dedicated to Goddess Kali. Other temples in the Western Group include the Varaha Temple with a nine-feet high boar-incarnation of Lord Vishnu, The Matangeshwara Temple with a eight-feet high lingam, and the Brahma Temple.
- Eastern Group
This group comprises of two historic Jain temples - the Adinath Temple lavishly embellished with sculpted figures, and the Parsvanath Temple, the largest Jain temple, sculpted with charming detail. There are other shrines such as the Vamana Temple with apsaras in sensuous poses, and the Javari Temple that has a richly-carved doorway.
- Southern Group
This group has two impressive temples, mainly belonging to the 12th century - the Chaturbhuja Temple, with a massive, carved image of Vishnu, and the Duladeo Temple, one of the last temples of the Chandela era, dedicated to Lord Shiva.
Shopping
There are shops located near the temples where you can purchase the local handicrafts and other souvenirs which at times make good gift items. There are a number of handicraft shops in the market opposite to the Western group of temples and the nearby Gole market. The hotels, Chandela, Jass Oberoi, Holiday Inn, Clarks Bundela and Ashok also have shopping arcades. Photo shops are also located here and cameras are available on hire.
Best Season
The place has a typical continental type of climate with summers being hot and winters cold. Best season to visit these temples is between the months of October and April.
How to Reach- By Air
A daily Boeing 737 of Alliance Air links Khajuraho with Delhi, Agra, and Varanasi.
-
By Rail
The nearest railheads are Harpalpur (94 km) and Mahoba (63 km). Country buses and tongas take you to Khajuraho. The Shatabdi Express from Delhi to Bhopal stops at Jhansi (172 km from Khajuraho). Satna, 117 km away, is convenient for travelers from Mumbai (Bombay), Calcutta, and Varanasi. Taxis and buses are available from here.
- By Road
Direct bus services connect Khajuraho with Panna, Satna, Chattarpur, Jabalpur, Mahoba, Bhopal, Gwalior, and Indore. For local transport, cycle rickshaws, tongas, and taxis are available