History: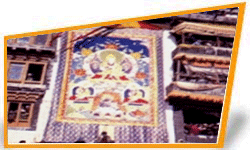 Hemis festival is one of the most famous monastic festivals. The festival is in honour of Guru Padma Sambhav's (the founder of Tantric Buddhism in Tibet) birth anniversary. It also has the largest Thangkha in Ladakh, which is unfurled, once in 12 years (next in 2004) Hemis was built in 1637 during the reign of Sengge Namgyal, an illustrious ruler of Ladakh. It flourished under the Namgyal dynasty for the royalty favoured the Drugpa sect, which managed the monastery. It is divided into two, the assembly hall on the right and the main temple on the left. The hall Dukhang is also used as "green room" by the dancers during the festival. The temple is known as Tshogkhang. The varandahs have a surfeit of frescoes, among them the Buddhist 'wheel of life' (Kalachakra) and the lords of the four quarters, besides the prayer wheel.
Celebrated on:
The famous 'Hemis' festival is mailnly celebrated in the courtyard of Hemis Gompa-the biggest Buddhist monastery in Ladakh that celebrates the birth anniversary of Guru Padmasambhava. The colourful two-day pageant falls on the 10th day (Tse-Chu) of the Tibetan lunar month (June).
Celebrations of the festival:
The local people dress up in their traditional clothes for the occasion. Lamas called 'chhams' perform splendid sacred dance drama of the life and mission is performed wearing facial masks and colorful brocades robes to the accompaniment of cymbals, drums and long horns. The head lama presides over the function. The festival takes an auspicious turn every 12 years in the Tibetan Year of the Monkey, when the three-storey high 'Thanka' depicting Padmasambhava is displayed at the 'thankas'. This famous 'Thanka', richly embroidered with pearls and semi-precious stones. A colourful fair, displaying some beautiful handicrafts, is the special highlight of the festival.
The three-day festival takes place from 9th to 11th. Splendid masked dances are performed to the accompaniment of cymbals, drums & long horns. A colorful fair, displaying some beautiful handicrafts, is the special highlight of the festival.
How to get there:
Hemis lies 45-km southeast of Leh, the headquarters of Ladakh
>> Air : - The nearest airport is at Leh
>> Road : - By car, Hemis is an easy day trip from Leh. By bus, services are only frequent during the festival; at other times a single daily service leaves at 9.00 am and returns at 12.30 pm, leaving no time to have a good look round.