History: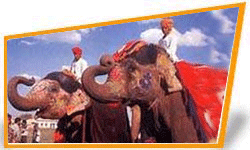 The Elephant Festival is an inimitable event held annually in Jaipur.
It's association with the gods and king goes back to the dawn of history. India the King of Gods, rides on a white elephant, Airavata. It's majestic presence has been associated with regal splendor and the elephant has always remained as the most important paraphernalia of the king.
The Jataka stories of Buddhism refer to the tradition of Hastimangala (the Elephant Festival). A royal mount from time immemorial, the elephant has also been a symbol of strength and wealth. For the Rajput kings, the elephants were of special significance not only during war but also during the royal festivities-a must at royal pageant. Nishan-ka-hathi, the flag carrier, led the procession. Even today, the mahouts take tourists up to the Amber Palace on elephant back. Rajasthan Tourism revived the tradition by including the Elephant Festival in the cultural calendar. The present-day pageant, originated only a decade ago, was devised especially with the tourist in mind. The inclusion of the game of polo is more recent, being inspired by a cartoon in Punch magazine that showed the Indian polo team atop an elephant after it won all the international tournaments.

Elephant Festival Celebrated on :
Every year on the day after Holi, the Chaugan stadium at Jaipur, forms the venue for a spectacular event.
Special Attraction of the Elephant festival :
The Festival where elephants are the centre of attraction. The festival begins with a procession of elephants, camels and horses, followed by lively folk dancers. Elephant races, elephant-polo matches and a most interesting tug of war between elephants and men, are all part of this spectacular event. The Unique 'Gaj Shringar' exhibition displaying everything connected with the elephant-ornaments, textiles (Jhoo) parapernalic howdahs and carriages, paintings medicines and food.