Introduction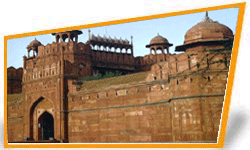 One of the most spectacular pieces of Mughal Architecture is the Lal Quila or the Red Fort, whose thick red sandstone walls, bulging with turrets and bastions, have withstood the vagaries of time and nature.Built by the Mughal emperor, Shah Jahan between 1638 and 1648, the Red Fort has walls extending up to 2 kms. in length with the height varying from 18 mts. on the river side to 33 mts. on the city side. The fort lies along the Yamuna River.
Shahjahan, started the construction of this massive fort in 1638, when he shifted the capital from Agra to Delhi. The fort was completed along with the huge city of Shajahanabad after nine years on 16th April 1648.
>> Location : - On Netaji Subhash Marg, near Chandni Chowk in Old Delhi
>> Best Time to visit Red Fort : - October to March
Main attractions inside the fort are

- Lahore Gate, or Delhi Gate is the main entrance to the Red Fort is through this imposing gateway flanked by semi-octagonal towers. The gate is named thus because it faces West, towards Lahore in Pakistan.
- Chatta Chowk, also known as Meena Bazaar, this was one of the first covered bazaars of the 17th century, that used to house Delhi's most skilful jewellers, carpet makers, weavers and goldsmiths

- Diwan-i-Aam the Hall of Public Audiences, where the Emperor would sit and hear complaints of the common folk.
- Diwan-i-Khas is the hall of private audiences, where the Emperor held private meetings.
- Moti Masjid or the Pearl Mosque, built by Aurangzeb for his personal use.
- Rang Mahal or the 'Palace of Colors' housed the Emperor's wives and mistresses.
- Naubat or Naqqar Khana, the next structure after the Chowk, also called Drum House, it was used for playing music five times a day. The music galleries contained large musical instruments like kettledrums, hautboys (shehnai) and cymbals.
Accesibility
>> Air :-
All major international airlines in the world fly through Delhi. Indira Gandhi International Airport is located at 23km southwest of Central Delhi and the domestic terminal at Palam is 5km away from the international terminal.
>> Rail :-
The city has two major railway stations in New Delhi and Old Delhi. New Delhi station is within walking distance of Connaught Place and Main Delhi station is about 7km from Connaught Place.
>> Bus :-
Buses from all the major places in Uttar Pradesh, Punjab, Haryana, Himachal Pradesh, Madhya Pradesh and Rajasthan are available for getting to Delhi.