Introduction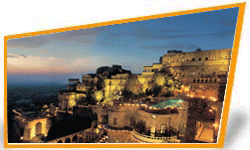 Neemrana Fort Palace is India's oldest heritage resort. It is also the most magnificent fort in Jodhpur, sited on a majestic plateau, concealed in a horseshoe formation of the billion-year-old Aravali ranges, Neemrana became the third capital of the descendants of Prithviraj Chauhan III.
The palace is situated on 300 meter hilltop from town constructed on 1840. Hill at the back and water in front make it beautiful. There are dozens temples, water tank and a Museum. The manuscripts, miniature paintings, many sculptures, wearings made of Ivory, and arms collection are important in the museum.
>> Location:- In Alwar, Rajasthan's closest palace from New Delhi, situated at 122 kms. on the Delhi-Jaipur highway - only 100 kms from Delhi's international airport.
Accesibility
>> Air :-
The nearest airport is at Jaipur and Delhi
>> Rail :-
Alwar is connected to Delhi and Jaipur by excellent train services
>> Road :-
Alwar is 170 km. from Delhi and 151 km from Jaipur.