Introduction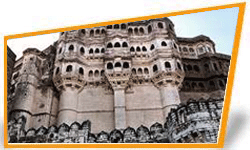 Perched on a 150 m high hill , Mehrangarh Fort sprawl is the most formidable and magnificent fort in Jodhpur, Rajasthan. The beauty and the grandeur of numerous palaces in the fort narrates a saga of hard sandstones yielding to the chisels of skilled Jodhpuri sculptures. To enter the Mehrangarh fort, seven gates have to be crossed.
Inside the Mehrangarh fort, a series of courtyards and palaces greet the visitor. One can experience the royal ambience during their vacation in Jodhpur. The palace apartments house a splendid collection of the trappings of the Indian royalty.
>> Location :- Situated at an altitude of about 125 metres, the Mehrangarh Fort is spread over an area of 5 sq.km in the heart of the city of Jodhpur.

Main attractions inside the Mehrangarh fort are
Seven gates have to be crossed to reach the fort. The gates still bear the marks of the various battles fought in the bygone era. Its second gate still stands witness to canon ball hits by attacking armies of Jaipur during wars. One of the gates is Jayapol, meaning victory. It was built by Maharaja Man Singh to commemorate his victories over Jaipur and Bikaner armies. Another gate, Fattehpol, again meaning victory, was built by Maharaja Ajit Singh as a celebration for defeating the Mughals.
Other attractions of Mehrangarh Fort :-
- The Moti Mahal or the Pearl Palace :-
It has the royal throne of Jodhpur, the Sringar Chowki. The fort also has galleries, temples, etc.
- Chhatri of a soldier, Kirat Singh Soda : -
To the left of the Mehrangarh Fort is the Chhatri of a soldier, Kirat Singh Soda. It is the spot where he fell while defending the fort against the armies of Amber.
Accesibility
>> Air :-
The Jodhpur Airport is 5 km away from the city center it has daily flights to Delhi, Mumbai, Udaipur and Jaipur.
>> Rail :-
Jodhpur is well connected by train from Delhi, Mumbai, Chennai and Kolkata.
>> Road :-
A convenient mode of travel to Jodhpur is by road.The main highway between Jodhpur and Jaisalmer is via Agoli and Pokaran.Well connected by bus from Agra, Ahmedabad, Ajmer,Delhi,Jaipur,Jaisalmer and Udaipur.