Introduction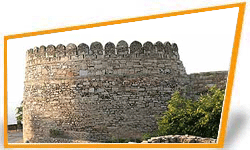 In the oldest cities in Rajasthan, the Chittorgarh fort rises like a mirage from the adjoining plains underneath and stands like a sentinel at a height of 180 meters. Chittaurgarh Fort is a living testimony to the bravery of the great Rajput warriors who sacrificed their lives fighting a superior enemy instead of leading a life of submission. Chittaurgarh exhibits the pride and glory of Rajasthan in the form of its various forts and monuments. The immense stretch of the walls and the ruined palaces relate the saga of innumerable sieges and heroism.
>> Location :- Located 175 kms. east of Udaipur
Best Time to Visit Chittaurgarh Fort
October to February. During this period, the heat of the desert sun is less intense, the weather is cool and it is the best season for going sightseeing. The Elephant Festival and the Gangaur Festival are held in Jaipur at the tail end of March; another good reason to plan a trip as winter is on the wane and summer is yet to set in.
Tourist Attraction

>> Vijay Stambh : -
The Vijay Stambh stands as a reminder of Maharana Kumbha's win over the Muslim rulers of Malawai and Gujarat in the year 1440. The tower is a nine storeyed structure with a height of 37 m. The sculptures that enhance the beauty of the tower are mainly derived from the two great Hindu epic, Mahabharat and Ramayana.
>> Kirti Stambh : -
The Kirti Stambh is dedicated to the first Jain Tirthankara, Adinath. Figures of Jain Pantheon increase the awesome appearance of the tower.
>> Bhairon Pol : -
A cenotaph narrates the bravery of Jaimal and Kala. Both these young men died defending Chittaurgarh fiercely after Rana Udai Singh left it at the mercy of Akbar.
>>Ram Pol : -
It tells tale of courage and sacrifice, this time of Phatta. Phatta was merely sixteen years old and just married when he marched down the battle field to protect his place from the invaders. He died in the battle and next day the women folk of his household committed jauhar.
>> Kumbha's palace : -
The Kumbha's palace is believed to be the same place where Rani Padmini, along with other women of the royal household, burnt herself alive to fail the sinister plan of Ala-ud-din Khilji.
Accesibility
>> Air :-
The Jaipur Airport is called Sanganer Airport . There are domestic flight connections to Delhi, Kolkata, Mumbai, Ahmedabad, Jodhpur and Udaipur. There is a single international flight to Dubai.
>> Rail :-
The train service to Jaipur is available from all the major parts of the country like Ahmedabad, Ajmer, Udaipur, Jaipur, Kota, and Delhi.
>> Bus :-
Regular buses for Ajmer, Bundi, Kota, and Udaipur from Chittaurgarh. For local transport, one can use auto-rickshaws and taxis.